Hines VA is now vaccinating ALL VETERANS. Please call 708-202-2707 or 708-202-7000 to schedule your COVID vaccination appointment.
Read more [...]
Hines VA Hospital has updated its COVID-19 Pfizer vaccine offering to veterans over the age of 65.
Read more [...]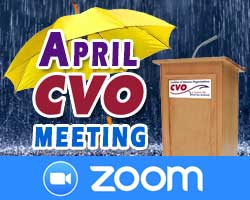 The next meeting of CVO will be on Zoom at 7 PM on Wednesday, April 15th. CVO is going online! It is crucial that CVO – like all organizations – protect its members in this period of home sheltering and social distancing. We need to continue to meet and work for veterans and their families! We are doing this by continuing to meet in new ways that utilize the technology available to carry out the CVO mission.
Read more [...]