Tag Archives:
MONTFORD POINT MARINES ASSOCIATION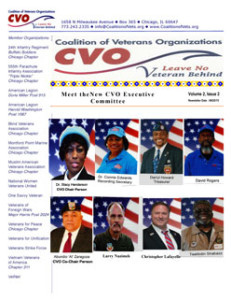 The Coalition of Veterans Organization Newsletter Volume 2, Issue 2. Please download your copy today!!
Read more [...]
You are all cordially invited to attend the Montford Point Marine Association Inc, Chicago Chapter 2, Presidents' Luncheon Fundraiser on Saturday, November 16, 2013 from 1pm to 5pm. Guest Speaker: Art Norman of NBC 5. Raffle @ $50.00 per ticket and a luncheon @ $20.00 per ticket. The prizes are 1st $2500.00, 2nd $1000.00, 3rd $500.00.
Read more [...]
HELP SEL GET THE HELL (TRASH AND DEBRIS) OUT OF YOUR NEIGHBORHOOD THE COALITION OF VETERANS ORGANIZATIONS IS HOSTING A "PICK UP EVERYTHING THAT DOESN'T GROW PARTY" SATURDAY, September 22, AT 71ST AND VINCENNES, 10:00AM TO 12:00.
Read more [...]